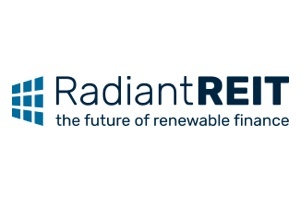 RadiantREIT
RadiantREIT will be the first-ever investment trust to bring mortgage REITs to the solar energy market. By financing solar like real estate, RadiantREIT is able to offer long-term, fixed rate debt that matches the operational life of an asset, and a lower cost of capital.
For solar developers, RadiantREIT increases developers' project cash flows, allowing them to maintain ownership in their projects.
For solar asset portfolio owners, RadiantREIT allows owners to swap out high-cost tax equity and short-term debt from project capital stacks with lower cost and longer-term loans.
The mortgage REIT model applied to solar is also attractive for the investor community, particularly for ESG funds looking to increase their impact while maintaining a diverse, liquid portfolio that includes long-term, predictable income streams from solar energy assets.